Industry-Leading RTP Makes Gaming Club Casino Stand Out From the Rest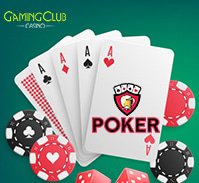 Poker is one of the most popular games a casino can offer. The market for online poker has exploded in recent years. Everyone is looking to play. Unlike many games you can gamble on, poker takes real skill. There's strategy and reading your opponent is critical. Because of that, many feel they can win a lot of money.
Instead of playing against the house, with odds stacked against you, you play against an opponent that you could have the advantage over. That's the intrigue. That's also the downfall of most.
Playing against other real people means you've got to swim with the sharks. Almost every table is bound to have one regular. That person who plays poker for a living.
Playing live online poker against others sounds great on the service but the reality is a vast majority lose and never really stood a chance.
Playing poker against a machine offers a better chance to win
There's another poker option with return to player (rtp) rates that make it one of the best bets you can make anywhere in a casino.
Video poker has been around for a long time and its popularity remains. This is because it has phenomenal rtp rates. When looking for the best rtp rates, there is one casino that stands out.
A casino that has been around is a smart play
Gaming Club Casino poker has been around longer than almost anyone. They first went online in 1994. They are the leading site for online poker. They've been doing it a long time yet are always updating software to give players the best experience possible.
Gaming Club Casino poker has some of the best rtp rates you can find. They all have 90-plus percent rtp. The video poker game Deuces Wild 10 Play has a ridiculous 99.37 percent rtp for instance. So too do the 50 play and 100 play variations of the Deuces Wild game.
Others, like Deuces and Joker, have an rtp rate of 99.07 percent. There are many other options with an rtp rate above 98 percent. The ones that have lower than that rtp rates are lower because of progressives that are attached to the game. You should always look at the rtp before playing.
For a full list head on over to the website. There you will find all the games. For the rtp of each game simply scroll down and click on the payout percentages. You can download a PDF with all the rtp rates for every single game including every Gaming Club Casino poker game.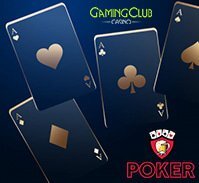 Gaming Club Casino is a big library of games to pick from
Speaking of all the games, including poker variations, Gaming Club Casino has so many to pick from. It could take weeks to try them all. Don't forget, the rtp rates are as good as any place in the industry. Nearly every Gaming Club Casino poker game has a rtp rate in the upper-90s.
Of course, getting the most bang for the buck isn't just about rtp rates. Getting a big bonus on a deposit and promotions matter almost as much as the rtp.
Promotions and progressives are fun and can change your life
Thankfully, Gaming Club Casino poker also has great bonuses and promotions to go with some of the best rtp rates in the business.
Currently, players can get a 2x deposit match, up to 350 euros. That's a great promotional bonus that gives you double the amount to play with. That's double the Gaming Club Casino poker draws, double the chances for that big hand that allows you to beat the rtp rate. It only takes one four of a kind or royal flush to soar past the rtp rate.
In addition to the top notch deposit bonus offered, Gaming Club Casino poker and slots have daily, weekly and monthly promotions. You can win one of the promotions that are always going on and not even worry what the rtp rate is. Playing a game with a promotion can swing the rtp in your favor.
Prizes can be more than straight cash
Not everything is strictly money though. While the rtp rate is based on money the promotions can range from cash winning, casino credits and free spins. Unlike most online casinos, Gaming Club Casino doesn't stop at the normal promotional winnings. You can also win expensive tech gadgets, top of the line 5-star cruises or vacations to popular destinations that will make you forget all about rtp rates! Who cares about the rtp when their feet are in the sand on a beach in some exotic location?
Progressive jackpots can get into the millions
Maybe you'd like to choose how to spend your money and pick the location or cruise you want to go on. You can do just that with one of the progressive jackpots, including some on Gaming Club Casino poker games.
How high the progressive jackpots can reach is truly insane. There are times they surpass 10 million euros. Winning one of those will blow your personal rtp rate all the way up to the moon.
While the rtp on the games with a progressive are slightly lower to account for the huge winnings that can pile up in the progressive, the rtp remains very good. The Gaming Club Casino poker game Jackpot Deuces Progressive has an rtp of 93.89 percent for instance. Another game, Super Jax Progressive, has a respectable rtp of 91.41 percent.
You can still win the old fashioned way while chasing the progressive jackpot thanks to a big rtp. Don't forget, you can always check the downloadable PDF for the exact rtp of the game you select before playing.
First rate loyalty program offers players extra benefits
Like most of its competitors, Gaming Club Casino also has a loyalty program. It is free to join and as soon as you do you start earning points for every single wager you make at the casino. You should sign up right away to not miss out on any points.
Those points add up. Get enough of them and you can trade them in for the benefit of your choice. The bonus credits you get can then be used to make a wager in the casino. One of those bonus credits could nab you a big win.
Over time, as you accumulate more and more points, you will level up. This opens to the door to bigger and better benefits. It can also earn you points faster leading to more bonus credits.
Those with lots of money can get special treatment at Gaming Club Casino
For the big spenders, Gaming Club Casino rolls out the red carpet. Deposit and play enough and you could be a VIP with the casino. VIP's qualify for rewards that are even better than the standard casino offers. VIP's can earn more free spins and other bonuses plus all VIP's have access to VIP hosts 24/7 so no matter what time it is, they can get the help they need.
Whether you are a VIP or not, Gaming Club Casino is the top choice for your online gambling needs. They have more than 500 games including an extensive list of Gaming Club Casino poker games with some of the best rtp rates in the business.
All you have to do is head on over to the website, sign up and make your deposit. Don't forget the casino offers a large match that doubles your first deposit and can give you the extra bankroll needed to make a big win a reality.
No matter what Gaming Club Casino poker game you choose, you have a great chance to win. With so many games to choose from, including multiple with ongoing progressive jackpots, and some of the industries best rtp rates, no casino is a better option. Big bonuses, great promotional prizes, a loyalty program that rewards players consistently and some of the best rtp rates in the business is all a gambler can ask for. It really is that simple.